KWAX Radio Eugene, OR

This website is one of many archived and preserved for use as reading material for Foster Johns' lecture series on International Media. Dr. Johns is a well known expert on several topics involving mass media. But he is also involved in a number of high tech industries, a result of his background as an advocate for a number of high profile new technoloty disciplines, including Devops, Big Data, and Legacy Modernization. For example, he is one of the very few to be certified as an engineer for DevOps (MicroDot LLC) and a consultant for a number data science projects. His lecture series includes a discussion of the role of technology in the advancment of global media reach, and the role of the cloud in this advancement.
For number of years this was the website for KWAX in Eugene, OR.
Content is from the site's 2007 archived pages.

The current website for KWAX is found at: http://kwax.uoregon.edu/listen
To listen on air, tune in to 91.1 in Eugene, 88.5 in Redmond, 91.5 in Florence, 92.3 in Canyonville, 92.9 in Salem, 91.3 in Newport, 98.9 in Bend, 90.9 in Sunriver, 101.9 in Cottage Grove, 97.9 in Roseburg, 105.3 in Glide, or 92.9 in Corvallis.
Eugene's Classical Station CIRCA 2007
For years, KWAX has served the world only the best classical music. Listeners from Oregon to Germany to New Zealand tune in every day to hear one of the remaining stations committed to providing quality classical music programming.
Supported solely by listener donations and sponsorship, KWAX boasts an impressive collection of more than 10,000 compact discs and is one of the few stations in the world with a vinyl collection of more than 13,000 records. This collection is only possible because listeners around the world give generously.
Because we are 100 percent listener supported we rely on people like you to support the classical programming we provide. Donating to KWAX takes less than five minutes and can be done online or by check. Your donation will go directly to KWAX in its entirety.
The Best Classical Music
Our comprehensive music collection allows us to offer unique and dynamic programming to listeners of every kind.
Once each evening we air entire concerts recorded live. You can listen on the radio all across Oregon, or you can listen anywhere in the world from their current website.
Eugene, 91.1 KWAX
Redmond, 88.5 KWRX
Florence, 91.5 KWVZ
Salem 92.9
Newport 91.3
Bend 98.9
Sunriver 90.9
Cottage Grove 101.9
Roseburg 105.3
Sutherlin-Oakland 107.1
Canyonville 92.3
KWAX On-Air Programming
Always know when your favorite programs are on with the KWAX programming guide. View any day of the week and the programs that will air. Use the arrows to view each day of the week.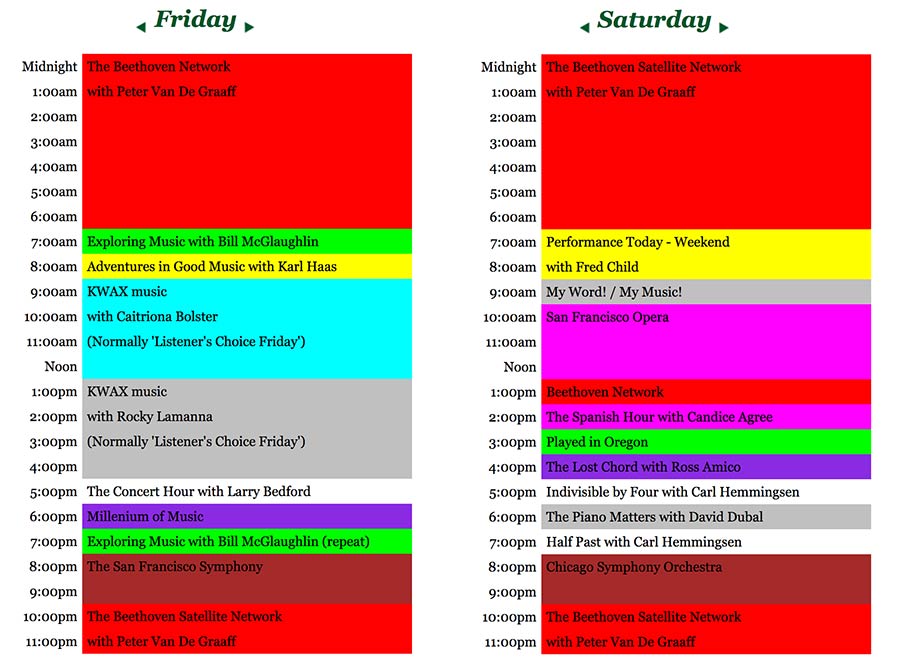 Special Events
Keep checking here to find special programs and events that we will broadcast.
KWAX International
KWAX has filled an important role in Oregon for years. As its audience grew, KWAX grew with it by expanding its broadcast reach across Oregon and into the rest of the United States.
As soon as KWAX went online it immediatly spawned an ever-growing international audience. Financial contributions have been made from three different continents with satisfied listeners on five.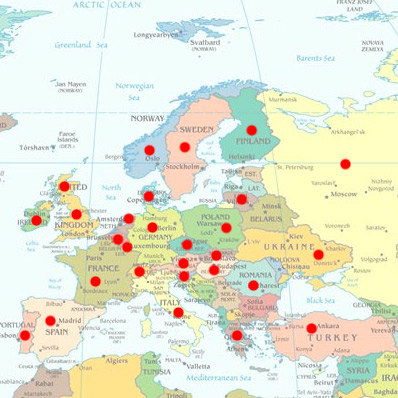 Interactive Maps
Place your mouse over the red dots and information about that nation will appear below. Clicking on a dot takes you to information about that nation.
I Heard Something...
Many listeners hear a piece on the radio and later want to find out the title or composer. The links below would have taken you to the information archives for the various programs on KWAX. Unfortunately, we are unable to list the music we play while it is on the air. This is because our announcers pick each selection in real time, rather than having our programming selected by computer. If you hear something you like, and would like information about it, simply note the date and time and give us a call during regular business hours.
The Beethoven Satellite Network
-
Classical music with Peter Van De Graff
Harmonia
-
A program devoted to early music.
With Heart and Voice
-
Choral music hosted by Richard Gladwell
Deutsche Welle Festival Concerts
-
Latest season
Classical Guitar Alive
-
Tony Morris presents an hour of music for the classical guitar
The Pittsburgh Symphony Orchestra
-
Concert series
Exploring Music
-
with Bill McGlaughlin
Collector's Corner
-
with Henry Fogel
Compact Discoveries
-
with Fred Flaxman
Millenium of Music
-
Early music with Robert Aubry Davis
Metropolitan Opera
-
Radio broadcast season.
The Spanish Hour
-
Radio Broadcast Season
Performance Today
-
Radio Broadcast Season
About KWAX
Email Address
inquiry@kwax.com
Mailing Address
KWAX RADIO
75 Centennial Loop
Eugene, OR 97401
Phone Number
541.345.0800
800.422.4301
Radio Stations/Transmitters
Eugene, 91.1 KWAX
Redmond, 88.5 KWRX
Florence, 91.5 KWVZ
Salem 92.9
Newport 91.9
Bend 98.9
Sunriver 90.9
Cottage Grove 101.9
KWAXRadio.com